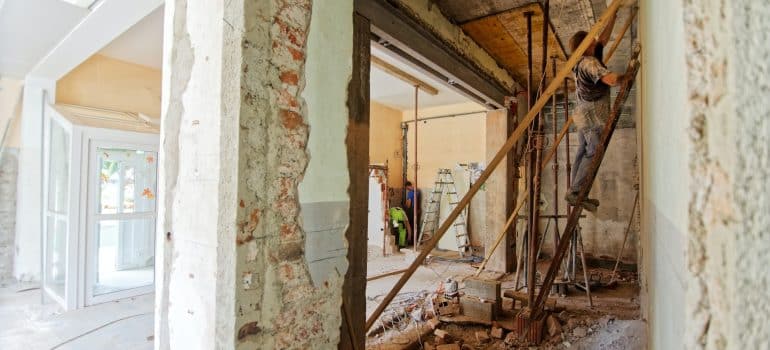 We can all agree that 2022 was a year like no other for many reasons, and home renovations were no exception. With more home dwellers spending more time at home than ever before, the home renovation sector has seen unprecedented growth and demand in the last 12 months. Homeowners are always looking for ways to make their spaces even better, smarter, safer, and more efficient. So, what trends can we expect to see this year and heading into 2023? We've put together a list of eight of the most popular 2023 home renovation trends worth looking out for.
1. Smart Home Automation
Smart home automation is one of the most sought-after trends of 2023. Homeowners are looking for ways to make their homes more comfortable and efficient through the use of compatible gadgets. Smart home automation products give homeowners the ability to control home systems such as lighting, temperature, and security remotely, as well as give access to interactive entertainment systems.
2. Improved Energy Efficiency
Energy efficiency is perhaps one of the most important aspects of any home renovation and is expected to be popular in 2023. Installing energy-efficient appliances, improving insulation, and updating windows are some of the ways homeowners can make their homes more energy efficient. Homeowners can also save money on their energy bills with the help of renewable energy solutions, such as solar panels and wind turbines.
3. Biophilic Design
Biophilic design is one of the biggest trends to watch out for, as it allows homeowners to bring nature indoors. With biophilic design, homeowners are incorporating natural elements into their interiors, such as plants, wood, and stone, to create a more calming and peaceful atmosphere. Ask your designs and construction provider what biophilic design options they can offer you.
4. Floating Furniture
Floating furniture has been a popular trend for quite some time and is expected to be even more popular in 2023. Floating furniture is a great way to make a room appear bigger by utilizing vertical space.
5. Outdoor Living Spaces
Outdoor living spaces are becoming increasingly popular as many homeowners today are looking for ways to make the most of their outdoor space. These outdoor spaces are perfect for entertaining or just simply relaxing outdoors.
6. Dark and Dramatic Colors
Dark and dramatic colors are one of the hottest home renovation trends of 2023 and are the perfect way to add a touch of drama to a room. Dark paint, furniture, and accent pieces are being used to add depth and sophistication to any room.
7. Multi-Functional Spaces
Multi-functional spaces are becoming increasingly popular as homeowners are looking to maximize their space while creating an aesthetically pleasing environment. A multi-functional space is one where multiple purposes can be achieved in the same area, such as an office, gym, and storage.
8. Exotic Finishes
Exotic finishes are another hot trend of 2023 and are being used to add unique textures to any room. Homeowners are incorporating exotic materials, such as marble and granite, to add a luxurious yet unique touch to any interior.
Conclusion
Home renovations are becoming more and more popular, and 2023 is no exception. As technology advances, more and more innovative options are becoming available to homeowners. Smart home automation, energy-efficient features, outdoor living spaces, and sustainable materials are just some of the home renovation trends that are expected to become increasingly popular in 2023 and beyond.
If you want to keep up with these trends and make your home look more modern, hire a home remodeling contractor in Los Angeles that you can trust to get the job done right. MNM Remodeling is a leading remodeling contractor in Los Angeles, specializing in bathroom and kitchen remodeling services, outdoor living spaces, and more. We believe in excellence in home remodeling and strive to provide the highest quality services to our customers. Contact us today, and let us help you transform your home into the modern masterpiece you've always dreamed of.